Monogrammed Chips (Custom) Can Make Great Gifts For Poker Friends!

Sometimes it can be very challenging to come up with original ideas when wanting to buy close friends some original birthday gifts. One idea that seems to be catching on amongst friends that are Poker players, is gifting monogrammed chips (custom).
Many friends like to have regular games at home. It's really just a great way to kick off and relax with the guys over a few beers and snacks and just shoot the breeze. Imagine breaking out one's own monogrammed chips (custom), how cool would that be? It may seem a little unorthodox, but it is certainly an eye catcher and for those looking to impress, it's a great way to get people's attention!
Talking of getting attention, when in business one wants to stand out from their competitors. Using monogrammed poker chips for their business cards is the ideal attention getter for any serious businessman, be he a player or not. It certainly will conjure up a unique image with his prospective client and they do say first impressions are lasting impressions. Something very important when it comes to networking as well!
One will not be surprised to know that this is an idea used by some of the top Fortune 500 companies. Some of them go to great lengths to have very special custom poker chips set procured, solely for the purpose of getting their brand name out there.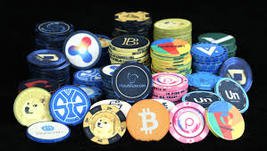 As well as that there are other well-known leagues and brands that like to promote themselves by putting their name on Poker chips such as: Budweiser, Milwaukee's Best, ESPN, Cruises America, Amateur Poker League, True Poker, the San Diego Poker League, along with countless other Poker rooms throughout the country.
Engaged couples planning to get married even use their own casino style chips at their wedding to commemorate the special event.
They definitely won't be able to use them as casino chips, if they're planning their stay there for their honeymoon, but they'll have left their guests behind with something to treasure and to remember the occasion of their wedding by. How novel and memorable is that!